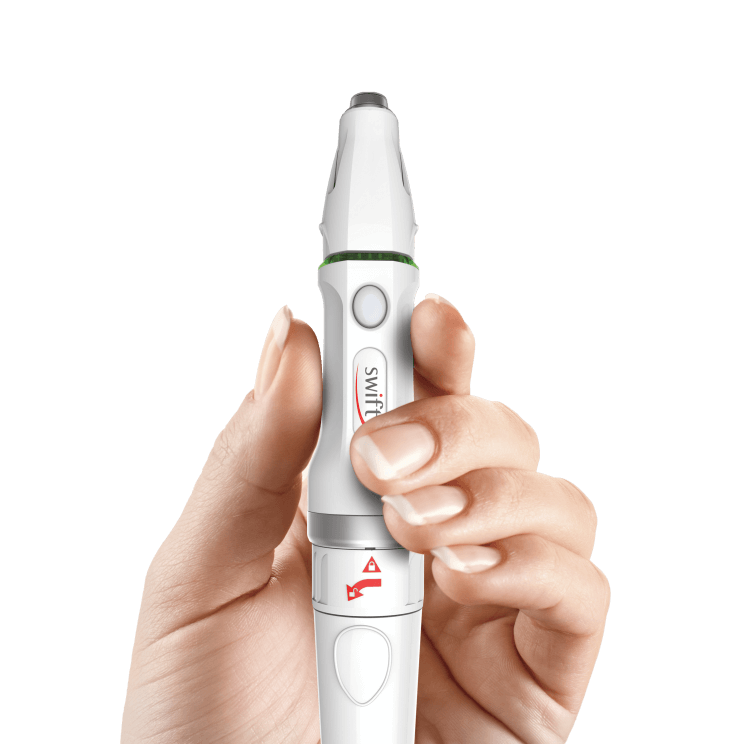 Just what is Swift Microwave Verruca Treatment?
Swift is a new technology for verruca treatment, developed right here in the UK. It uses microwave energy, applied to the skin via a special disposable probe, to treat skin affected by a verruca. The microwaves create heat within the tissues, which helps to produce an immune response within the body to eliminate the virus causing the lesions. To date, over 15,000 UK patients have been treated with Swift, with a 95% customer satisfaction rate. Swift can be used to treat both verrucas on feet, and warts on the hands, and our clinicians are insured to treat both.
We have been using Swift at the Round House for well over 5 years now, and we are proud to have been the first clinic in Kirklees to embrace this fantastic new technology! In 20 years of practice, this is by far the most effective verruca treatment we have used. After years of treating verruca patients, we really understand just how annoying, painful, stubborn and unsightly they can be.
What are verrucas?
Verrucas are caused by a virus, the HPV virus to be precise. In fact there are several strains of HPV that cause different types of verruca and wart lesions. Once the skin is infected, the virus can incubate for up to 8 months before a verruca appears. Because the infection is viral, any treatment depends on triggering that all important immune response. This is the same for any verruca or wart treatment, be it Bazuka, freezing etc. That's where the heat from the Swift comes in, to trigger that response! Up to 10% of the population has a verruca at any one time, and because there are different strains, you can have them more than once in a lifetime.
So, what is Swift Microwave Verruca Treatment like?
Well, the treatment takes seconds… literally! Each treatment involves around 5-6 two second applications (occasionally more) onto each affected area which is suitable for treatment (very small lesions may not be suitable).
Does it hurt? It can do, yes. Well, some patients describe treatment as a sharp sensation, a bit like an injection, or a hot match being placed on the skin. But everyone is different, pain thresholds are different, and we can tailor your treatment to suit if needs be, and this is what we do often for younger children (although if you can tolerate the normal dose, then all the better). But unlike some other verruca treatments, any discomfort felt during treatment subsides almost immediately after the treatment finishes. This means that you can get back to normal daily activities straight away.
The beauty of this treatment is that it is non-invasive, there is no cell destruction, so no scarring. It is a quick treatment, needs no aftercare, no dressings, and doesn't create any wounds, so there's no needing to keep feet dry!
How many treatments will I need?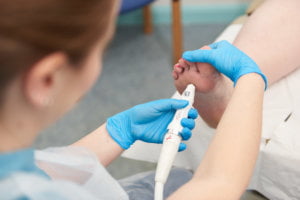 Well, this depends on how you respond to the treatment. Every individual is different. Some people's verrucas resolve after one treatment, a small minority in 3-6 treatments. The average is around 2-3 treatments, and if you can tolerate the higher dose in your treatment, then the outcomes are better. Verrucas take time to treat and resolve, but the results with Swift are great if you are prepared to stick with it. This treatment has a much higher success rate than any other treatment available to us. It isn't a cure-all, and not every lesion will resolve in a "normal" treatment time-frame. Another plus point, for people with painful lesions, the best side effect is that in our experience, almost everyone reports a reduction in pain from their verrucae after one treatment with Swift.
Treatments are carried out 1 month apart, up to the third treatment, if it is needed. After a third treatment, we review after 6-8 weeks, before deciding if any further applications are required. Clinical trials show over 76% resolution in an average of 3 treatments.
Can anyone have Swift Microwave Verruca Treatment?
The treatment is suitable for most people, with only a few exceptions:
People fitted with implanted electronic devices such as pacemakers
Pregnant women
Anyone with implanted metallic objects near to the verruca site (joint replacements/fixings etc. following surgery)
Patients with neuropathy or circulatory problems
At your appointment, our podiatrists will assess your suitability for the treatment. There are other treatment options available which we will discuss with you when we formulate your treatment plan.
Summary
Swift is:
quick and simple
very effective if you can stick with the treatment
the best verruca treatment we've had in clinic!
So come and see us to zap those stubborn verrucas and warts!
Case Study
One of our first Swift patients! Male, in his 40's. Multiple verrucas both feet, warts right index and middle fingers, present for well over 5 years. Having tried various over the counter remedies at home, he had attended the Round House for several applications of salicylic acid, before the Swift arrived at our clinic! After 2 applications of the Swift in the January and February, he was verruca free by the end of March!