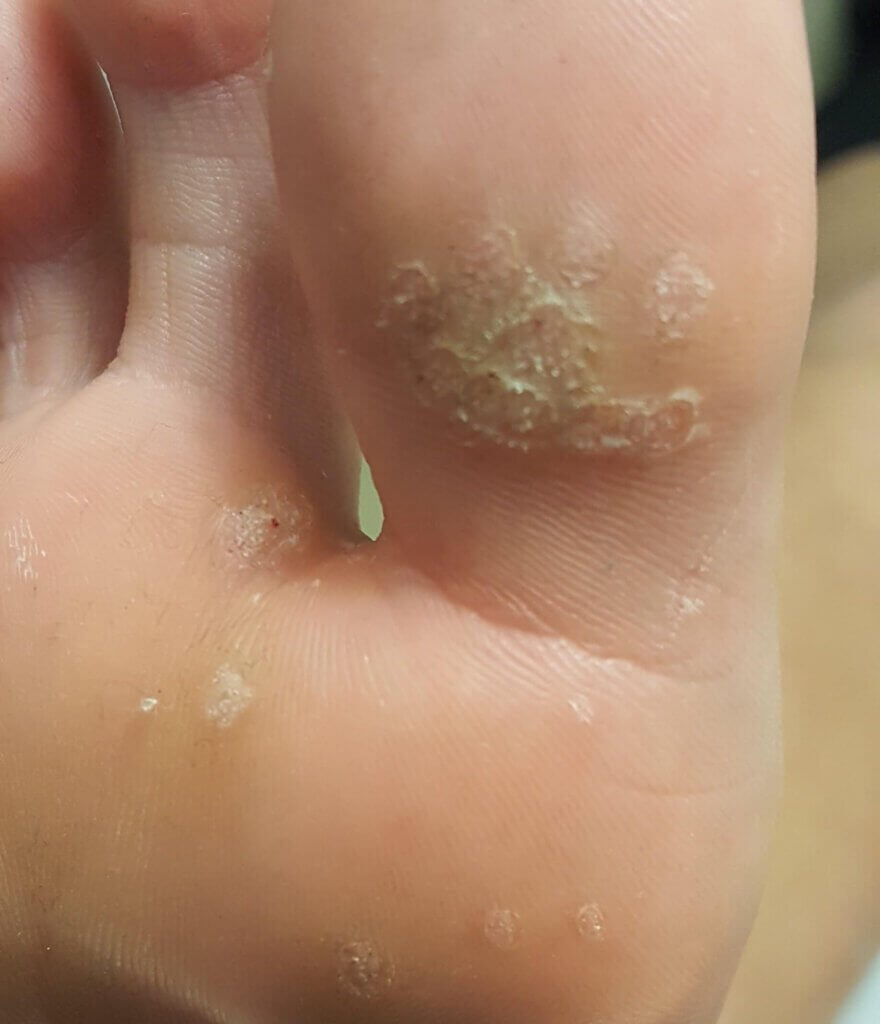 Looking for help with a verruca? FAQ's and helpful information
Are you looking for help with a verruca? In this month's blog, we aim to answer some of your frequently asked questions about verrucas and provide information about their treatment.
I'm looking for help with a verruca. Should I see a Podiatrist?
Yes, Podiatrists deal with verrucae all the time. There are various treatment options for verrucae, your local Podiatrist will be able to tell you what treatments they have available. At Round House Podiatry our preferred verruca treatment is Swift Microwave Therapy.
What treatments for verrucae do you offer at Kirkburton?
As we've said above, our preferred verruca treatment is Swift Microwave therapy. This pioneering treatment involves applying microwaves to the skin, creating heat within the tissues, and helping to trigger an inflammatory response for the body's immune system to fight the verruca virus.
You can read more about this therapy and how it works in our blog here.
We also offer alternative therapies for those who are not suitable for the Swift treatment.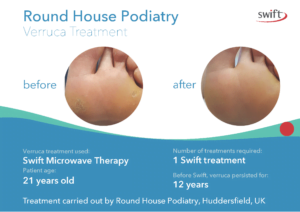 How much does it cost to get a verruca treated at Round House Podiatry in Kirkburton?
This depends on what course of treatment you opt for and what is suitable for you. Our standard verruca treatments using acid-based therapies are £23 and are carried out weekly or every 2 weeks. Our Swift Microwave verruca treatments are £105, carried out monthly, up to 3 sessions, followed by a review 3 months after the 3rd session if the verruca hasn't fully resolved already.
How long does it take to get rid of a verruca?
This is such a hard question to answer, and one that we get asked all the time. There is no 100% guaranteed resolution timescale or treatment. Some resolve really quickly, others much more slowly. As verrucae are caused by a virus, resolving them depends on the body's immune system fighting the virus and eliminating it from the skin. Each patient and each verruca is different so it's not really possible to say exactly how long it will take.
However, best case scenario, for example if resolution happens after only one Swift treatment, it would be approximately 4 weeks. Your skin cells take around 4 weeks to mature and be replaced under normal circumstances. Therefore you would have to wait up to 4 weeks to see the changes in the skin.
If you are looking for help with a verruca and would like more information, please fill in our online form here.
The NHS website also has information on warts and verrucae here.