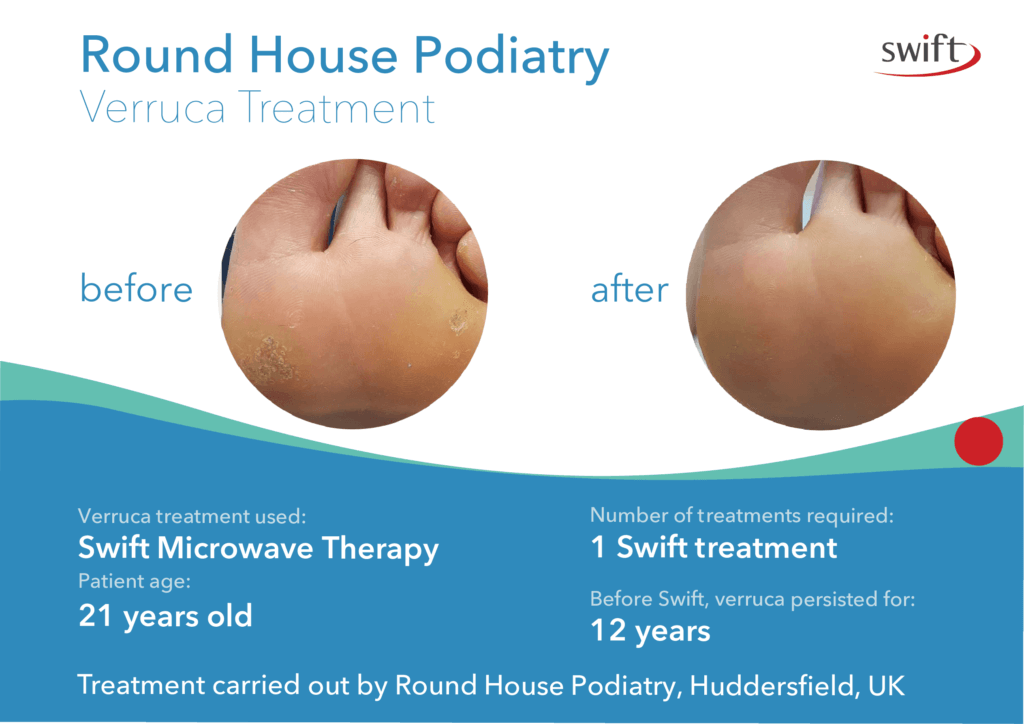 How long does it take to get rid of a verruca? Some Swift Case Studies.
How long does it take to get rid of a verruca?
The answer to this question will vary for every single patient we see. Hopefully these studies will give an understanding of how long it takes to get rid of a verruca!
For the majority of our patients that we use Swift Microwave treatments for, their verrucae will resolve within 3 treatments, which would be any time from 4 weeks, up to a 6 month period. However, this isn't the case for everyone. If you'd like to know how Swift has worked for some of our patients, in different ways, then read on for some case studies. They cover resolution of verrucae after 1,2,3 and more treatments.
Case Study 1
One Treatment
This patient was a 21-year-old lady, who had multiple verrucae over both feet. They had been there for 12 years, and she had been receiving various treatments at an NHS clinic, including salicylic acid and silver nitrate application, with no success. She was referred to our clinic by one of our NHS colleagues.
She attended the clinic not long after we started to use Swift, and she was the first patient we had treated with such extensive verrucae. After an assessment, the treatment was carried out, and a review was booked for 1 month later.
When she attended the review, we were delighted to find that all her verrucae had resolved. I'm not sure who was more emotional, her or me! This was one of the treatments that really cemented our faith in the Swift treatment.
Case study 2
Two Treatments
This gentleman was 44 years old when we carried out treatment. He had 2 large verruca lesions, one towards the back of each heel, as well as wart lesions on the fingers of his right hand. These had been there for several years. He had been attending Round House Podiatry for treatment of the verrucae on the heels using salicylic acid paste.
This acid treatment was in progress at the clinic when we first got our Swift machine, so we asked if he would agree to be one of our "guinea pig" patients using the Swift! He agreed, and we carried out his first treatment and booked a review in one month. On review, the lesions had improved but not resolved, so we carried out a second application of treatment. We were delighted when at the second review, all lesions had resolved, including the hand warts that we hadn't treated with the Swift!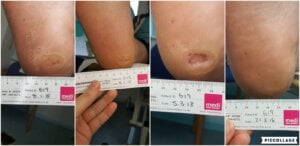 Case Study 3
3 Treatments
This 59-year-old lady came to us with 2 large verrucae, one under the ball of each foot. She'd had these verrucae for 10 years, and they were increasingly painful when playing sport.
We agreed to try the Swift, and carried out 3 treatments, one month apart, monitoring progress at each appointment. If we reach 3 treatments and the lesions haven't fully resolved, we review again after 3 months to give the immune system time to react to the verruca virus. In this case, after the 3 month review, (so 6 months after starting treatment), the verrucae had greatly improved and were much less painful. Although they hadn't fully resolved, they continued to improve month on month at review appointments. We agreed to give them time before we applied the Swift again. We achieved full resolution just before 12 months after treatment without any further Swift applications. Our patient was delighted, and she can now play sport pain-free after 10 years!
Case study 4
5 treatments
This 48-year-old gentleman was referred to us by another Podiatrist, when the treatment they had been undergoing had not resolved the verruca. This verruca had been there for around 4 years. It was uncomfortable due to its position on the ball of the foot, just behind the toes.
After assessment, we started a course of Swift treatments. 3 treatments were carried out, each a month apart. After the 3rd treatment, and the further 3 month review period, the verruca had improved but not resolved. In this case, we would be encouraged by improvement to the appearance and hopeful of resolution, but then it would become static for a while and not show any signs of further improvement.
After continued review, a further 2 treatments were carried out over the next 12 months. With gradual improvement, we finally got resolution just short of 2 years after starting the treatment. We combined the Swift treatments with applications of silver nitrate at review appointments when the Swift was not used. This was one of the more stubborn and long lasting verrucae we have treated with the Swift. But shows that with perseverance and patience, we do strive to resolve as many verrucae as we can.
So that's how long it can take to get rid of a verruca!
Not every verruca we treat will disappear quickly, although we are delighted with the ones that do. For those that are more stubborn, we don't give up easily! We continue assessing progress and will carry out treatments on a case-by-case basis, depending on progress and after discussing with the patient.
Every patient we see is an individual, and each patient's verrucae and immune systems are different. There is no easy answer to the question of how long it takes to get rid of a verruca. All we can say is that we try our hardest to treat them!
If you would like to know more about our swift treatments, you can read our blogs here.
More information can be found on the Swift Microwave web page.