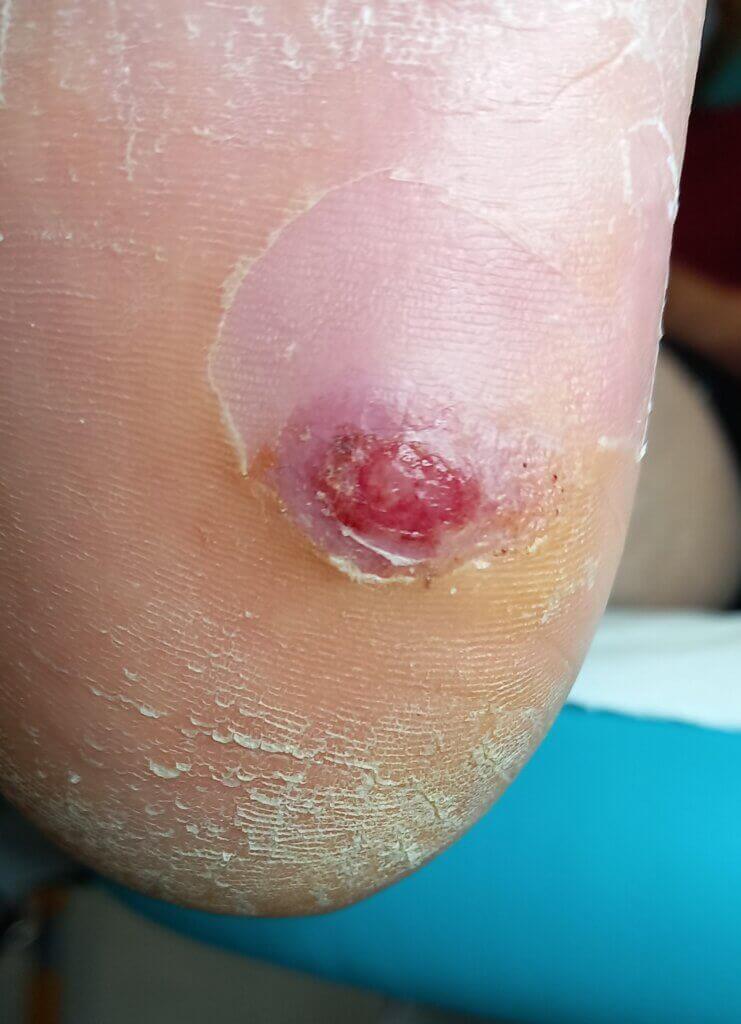 May – Skin Cancer Awareness Month
A Patient Case Study.
May has been skin cancer awareness month. So just before the end of the month and to highlight the importance of this subject, we'd like to share one of our cases with you, with our patient's permission.
One of our regular patients attended the clinic for her usual 6 monthly Podiatry treatment involving nail care and removal of any callus and corns. However, on this occasion she also asked for our advice on a lesion which had developed recently under her heel. (Pictured)
She reported that she had first noticed the lesion around 5 weeks previously, when she removed her boots after a walk. She had thought that her sock had creased inside her boot and caused a blister. As such, she had been using blister plasters to heal the area, which had not worked. The area was painful to walk on, but there were no signs of infection around the lesion.
There are several possible causes of non-healing lesions on the feet. For example - foreign bodies, pyogenic granuloma (this is a benign skin growth which is a proliferation of capillary blood vessels), and infections. However, there are also some more concerning lesions that can cause non-healing.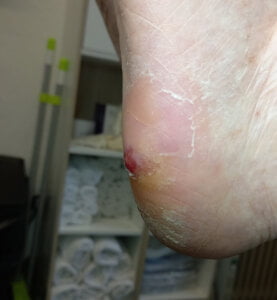 What we do if we have concerns of a possible skin cancer.
As this lesion hadn't followed the usual healing process, and was causing some pain, we took some photographs which we sent through to the GP. We requested a dermatology referral at the earliest convenience. We padded the area to relieve pressure temporarily and make the foot more comfortable for walking.
After reviewing the lesion, the dermatologist took a biopsy, which revealed the lesion to be an amelanotic malignant melanoma. This is a melanoma without the classic dark colouration. Our patient has since had an excision of the area and is awaiting a skin graft. Thankfully in this instance, the melanoma seems to have been caught early.
How can we help?
If you have any concerns about skin lesions on your feet, please visit a Podiatrist or your GP for an assessment. For many of us, due to mobility and that fact that our feet are often covered up, we don't pay close attention to any changes to the skin on our feet. The vast majority of things will be nothing of concern, but we are always happy to check things over.
In our clinic we have a dermatoscope which we can use to take magnified images of anything of concern and send these through to your GP. Both Nikki and Anna have completed skin cancer training courses so we will always do our best to advise you and refer on if needed.
Every month should be Skin Cancer Awareness Month - so check your skin all year round.
For more about skin cancers, click here