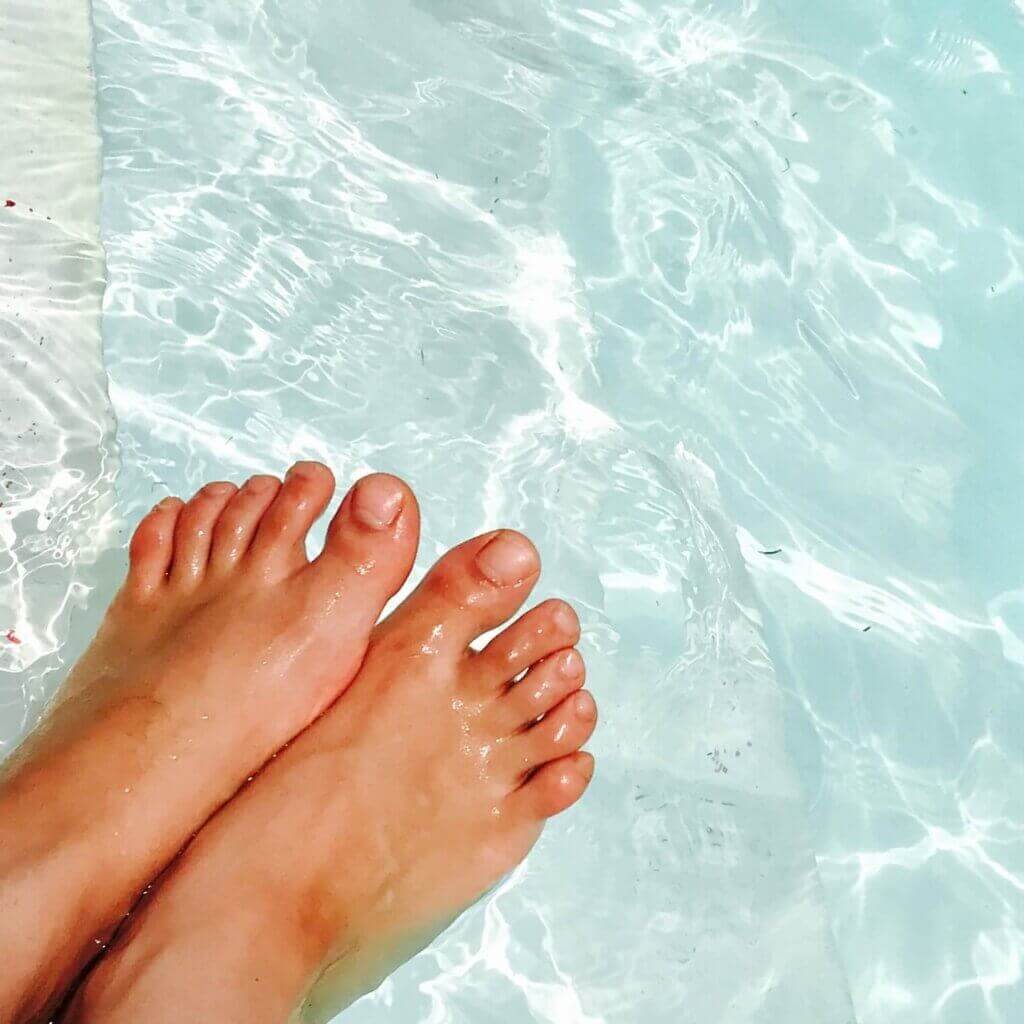 Well, the sun is finally out after what feels like a very long, cold, damp Spring! So we thought for this month's blog we'd revisit some of our Summer Feet tips.
Good foot care and hygiene *should* be an all year round thing, but we're all a little guilty of neglecting our feet during the Winter months. Unless you're lucky enough to head off to warmer shores on holiday, our feet tend to be tucked up in socks and shoes over Winter. Out of sight and out of mind!
But, if you're guilty of Winter foot neglect, all is not lost!
Summer feet tips you can do at home
Moisturise! It's a simple thing but something lots of us aren't good at. Regular moisturizing will make the most difference, daily if possible. Use a urea-based foot cream, and apply all over the feet, except between the toes. This will help to keep heels supple and the skin in good condition.
Socks – change socks daily, and stick to natural fibres like bamboo and cotton.
When the sun is shining and you're applying sunscreen, don't forget your feet! Ankles and the tops of the feet are often forgotten when applying sunscreen. We see some really fancy sandal tan lines in clinic from feet getting burned. Even when you're walking round and not sunbathing, the tops of your feet are exposed. Protect them like you would shoulders and heads!
Nail polish – use a good base coat if you are applying nail polish to toenails at home. This will protect the nail from damage and staining from strong colours. Give nails a break from polish from time to time if you can. Although gel polish is really hard wearing, it can be detrimental to nails. If you go for gel polish, make sure you have it applied and removed by a qualified professional.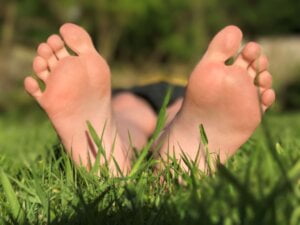 Summer feet tips for holidays
If you're out and about walking on holiday, good supportive footwear will be your best friend! Anything with an adjustable fastening and supportive sole will make a big difference. Adjustable fastenings will help if your feet swell after flights or in hot weather. Supportive shoes help prevent foot strain and pain.
Blisters – hot, swollen feet and more walking than normal can mean blisters. Take some blister plasters with you (Compeed or similar are great). These can be placed over blisters before they burst, or after and will take some of the sting out of them. If your blister has already burst, make sure the area is clean and disinfected, let it dry then apply the blister plaster. They're a must in our suitcase (and on a night out!)
Avoid walking barefoot on hot surfaces around pools and on balconies etc. Floors can be hotter than you may think and can cause blistering if your feet are in contact with them for too long. Take special care if you are diabetic or have any sensory loss in your feet.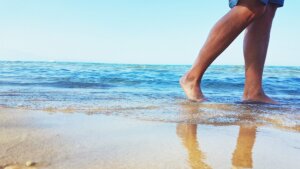 Podiatry treatments for Summer Feet.
At Round House Podiatry, we offer Cosmetic Podiatry treatments, ideal for Summer-ready feet.
As an add-on to our Standard Podiatry appointments, we offer nail polish application. We use Drs Remedy Nail polish, which was designed by two American Podiatrists and is designed to be as kind to nails as possible. You can learn about the polish here.
We also offer Cosmetic Toenail Reconstruction. This treatment is ideal for damaged nails, and uses a UV sculpting gel specifically designed for toenails. The nail is reconstructed using these gels and gives a perfect base for applying polish. Read our blog on nail reconstruction here.
We also offer a Medical Pedicure and Warm Wax therapy treatments, to rehydrate skin and keep it in tip top condition.
For all your Podiatry needs in Kirkburton and Huddersfield, you can book online here.